Many of us strive to find balance with our work, family, relationships, wellness, and more. We all want to feel like we're on top of everything in our lives, right? Right.
Unfortunately, there's often so much to do that it rarely feels that way. Many of us can readily attest to how easy it is to become disoriented by trying to "spin too many pie plates" simultaneously. Keeping multiple top priorities moving along simultaneously is a recipe for disaster. Attempting to make everything a No.1 Priority rarely ends well.
The good news? There are tips to help you stay on top of life just a little bit better … and maybe a lot. This article will explain how to balance a full schedule.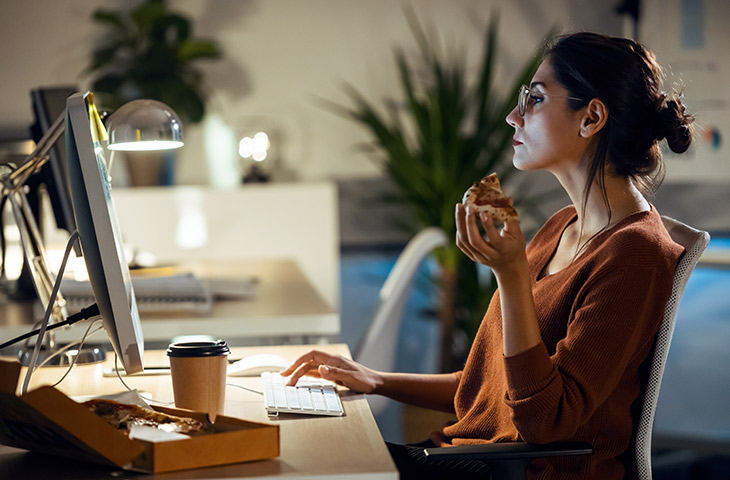 Do More Digitally
First and foremost, you need to save time by physically doing less. Driving all over town or constantly planning trips via public transport can be exhausting. If possible, don't do it. Instead, if you can take care of something from home or work, do that.
For instance, use an online doctor. Setting up virtual appointments with an online doctor is secure and easy. Better yet, online doctor appointments save you the trouble of hinging it to the clinic.
This same thinking applies to online grocery deliveries and prescription orders—ditto birthday gifts for the kids and that dress you need for Cousin Angie's wedding.
Make the Most of Your Calendar
Everyone knows how to use a datebook, so we'll save Calendars 101 for elementary schoolers. Many of us aren't using our planners to our best effect.
The main offender: we often schedule events in chunks that aren't granular enough. Meetings are usually set to 30 to 60 minutes, but is that realistic? It's better to plan a meeting accurately – 40 minutes – and then figure out what you'll do with the "extra" 20.
That way, it won't go to waste. You can apply this thinking to appointments, parent-teacher conferences, and workouts. Those extras add up in no time.
Schedule Lots of Small Breaks
"I don't have time to take a break" is a frequent refrain from busy careerists and parents. That kind of thinking can get you into trouble, though.
It turns out that your brain needs breaks. Sure, you can't always jet off to Fiji. But you can schedule lots of tiny leaves to give your gray matter a rest.
This is an excellent use of those bits and pieces of time you've scheduled out above. Use them to take a walk around the block or grab a coffee. Do it even if you can only stand up from your desk for 5 minutes.
Create Distraction-Free Time
Life is one big distraction. From medical appointments to family schedules to surprise visits from Corporate, sometimes it's hard to get anything done.
One of the best things you can do is schedule distraction-free time. If you're a writer, turn off your phone and close your browser windows. Then stare at the page, no matter how painful.
This works just as well for mathematicians and blackboards, athletes and training sessions, or students and dissertations. You don't need to become a monk to create quieter spaces in your day.
Don't Bring Work Home.
Work-life balance is all about separating work from life. This is easier said than done in our instant-gratification, up-to-the-minute world. Still, there are ways to start delineating that boundary more clearly.
If possible, leave work somewhere else entirely. Once you're off the clock, stay off. If that's not possible as a telecommuter or someone whose job requires more frequent contact, get creative.
Make some bright-line rules, ones that you don't break no matter what. Even if you work in the next room over, don't bring it to the dining table, date night, or storytime. Set aside a sacred afternoon once a week for no work.
Whatever you do, make sure your family and friends feel like there's more to you than the office. That will naturally create more balance in your schedule.
Manage Your Stress in Healthy Ways
Stress is a killer, literally. It is related to all health conditions, from heart disease to cancer to hypertension. And if you get hit with a chronic illness, a balanced schedule becomes that much harder to maintain.
Better to get out in front of it with healthy mechanisms for balancing stress. These include the guru go-to's such as mindfulness meditation and yoga, sure. But you can also keep your focus in check with more straightforward, everyday activities.
Try taking a long walk in the evening after dinner. Read a book in the bath or write in a journal for half an hour. Phone a friend or spend an evening doing the old Netflix-and-chill. These "self-care" routines are just promising approaches to life and ones that we all deserve to take. Don't count yourself out.
Takeaways
Were you trying to save time in a busy life? You're not alone. Try scheduling more regular life tasks remotely, such as an online doctor visit or a grocery delivery to your doorstep.
Other ways to make the most of your hours and minutes? Try breaking out your calendar more accurately so you can see all those "extra" minutes and use them more wisely. Also, remember to take breaks frequently; your brain is counting on you for it.
Remember not to bring work home wherever possible. You can create rules for yourself to help you do this, like making the dinner table a no-work-ever zone. And remember to manage your stress healthily so you can maintain that balance for years to come.
It's a Marathon, Not a Sprint
Remember, no one wakes up one morning with a fantastic work-life balance on their nightstand. It's a process of working through hectic schedules, overbooked calendars, and unhealthy anxiety, day after day.
The important thing is not to give up. Better lifestyles invariably involve lots of minor tweaks rather than a bunch of significant changes. If you keep working at it, you'll get there!